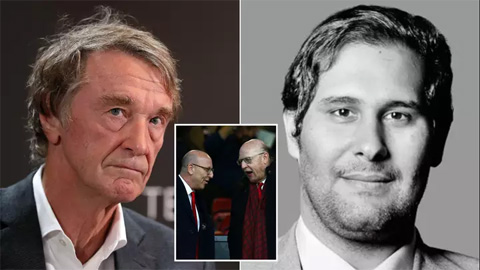 Sources close to both Sir Jim Ratcliffe and Qatari billionaire Sheikh Jassim feel that stories of Ratcliffe being in a favorable position to take over United could in fact be part of the game. strategy by New York bankers, Raine Group to attract larger auctions from both sides.
Sir Jim Ratcliffe's bidding team is understood to have given no indication of their current position, but they feel comfortable offering the Glazer family a 20 per cent stake in MU as attractive.
It is unclear how such an arrangement would be constructed, with another 31 percent of MU's shares owned by non-Glazer shareholders. But if Sir Jim Ratcliffe bought 49% of the current 69% stake in the Glazers for at least £2.5 billion, that would value United at more than £5 billion.
Man United's share price on the New York Stock Exchange fell to $18.12 (£14.54) at the end of Friday trading, giving the club a market cap of $2. $.96 billion (£2.38 billion). Any deal above £5 billion is extraordinary, but it seems Raine and the Glazers still think they can make more than that.
Those who know about Sheikh Jassim's moves expect that rumors will continue to circulate about the ups and downs of the auction, and the Qatari billionaire still doesn't know when things may end or they will go. in which direction.
It is acceptable that the Raine Group or the Glazers are simply trying to maximize the selling price, but Sheikh Jassim is also confident in the price of around £5 billion he offers for 100% of MU shares.
A source said: "Ultimately, it's up to the Glazers to do what the Glazers want to do and where we're going to go. It's always flowed so smoothly and importantly, there's never been a fixed timeframe. fixed – although obviously fans want it to end quickly."